5 Qualities of Great Leaders
I got a computer-generated SPAM email from Susy Jackson, News Editor for LinkedIn, and she asked me two very specific questions related to Leonard Mlodinow's post about his friend Stephen Hawking's thoughts on great leaders:
"Is the ability to pivot or change course critical to being a good leader?"
"What qualities do you think make a great leader?"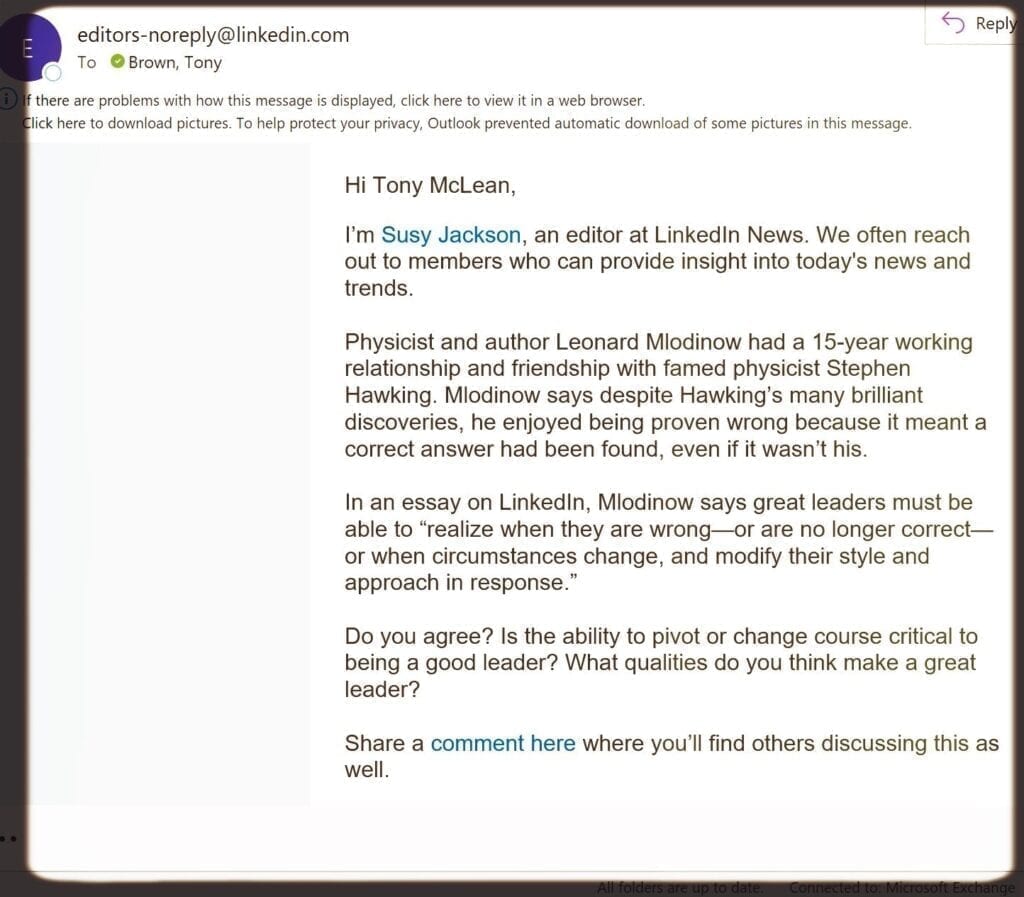 Universe works in mysterious ways and obviously Ed Forth needs to step up his SPAM blocker game at PCG, so here's my response Question #1 without any context for the term "great leader." Some might argue Adolph Hitler was a great leader. Others' might argue Pope Francis is a terrible leader. At times, both men showed exceptional capacity to pivot as leaders. Let's set the definition/qualities of a great leader aside for now and address Ms. Jackson's first question about a leader's capacity to pivot.
"Based on my experience, great leaders MUST be able to pivot."

Tony McLean Brown, author, ultra-marathoner, bullrider, mountaineer
I believe that everything you need to know about leadership can be learned from closely watching a NCAA Division I coach. Who can argue against how important it is for a coach to make "game time" adjustments? Players get hurt, defenses and offenses change, and the odds of success shift with the scoreboard and crowd participation. Great coaches like Kay Yow take in new information and make real-time adjustments that increase their probability of a victory. So, let my short answer to the first question be "Very Critical."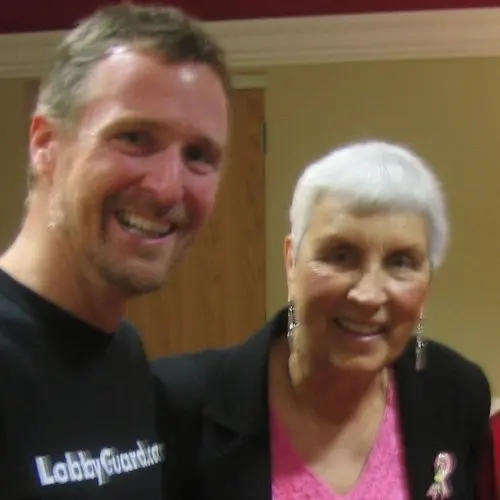 My answer to Susy Jackson's second question requires a few more words. I tried to simply comment on LinkedIn as instructed, but I was 4k characters past the maximum allowance. Thus this blog post.
I've had the privilege to work with and watch some really great leaders for a long time ... so I have a textured opinion. As I reflect on the qualities of great leaders I have met/known … it's amazing how many traits they have in common. So without further ado, let's go to work.
5 QUALITIES OF GREAT LEADERS
1. FOLLOW RULES, DON'T MAKE DECISIONS
Coaches, pilots, and many CEOs understand that there are things you control and things you don't control. The volume of variables can be endless and ever changing. Often times, it's impossible to make the "right" decision at exactly the "right" time … all the time. For example, pilots do not descend to minimums and try to decide if the fog will clear in another 50 feet. The RULE is to fly to the minimum descent altitude (MDA), if you can't see the runway … GO AROUND. Whenever possible, great leaders establish RULES to replace gut feelings, Hail Marys, and "on the fly" decisions. NASCAR Winner Rick Hendrick runs the tightest ship I've ever seen. His team culture is all about planning, anticipating, and executing in a very competitive sport (and car business).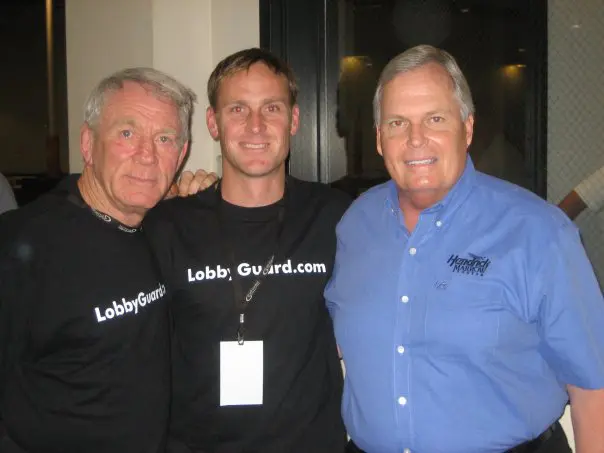 2. CREATE RULES THAT ARE VALUE-BASED
Strategic and tactical decisions come up every minute of every day. Triaging the high/medium/low decisions into buckets and applying "value-based" rules to adjudicating the flow of decisions saves time and builds culture. Let's assume your organization's three guiding values are : 1) Be Nice, 2) Facts Matter, and 3) Leave No Trace. When decisions need to be made, if it's unkind vs being of service, if it's opinion-based vs data-driven, or it pollutes/wastes vs conserves … AUTOMATICALLY DON'T DO IT. Walk the talk of your values. Eat the dog food you sell. Great leaders like PCG's Bill Mosakowski understand the "why" is as important and the "how and what and when."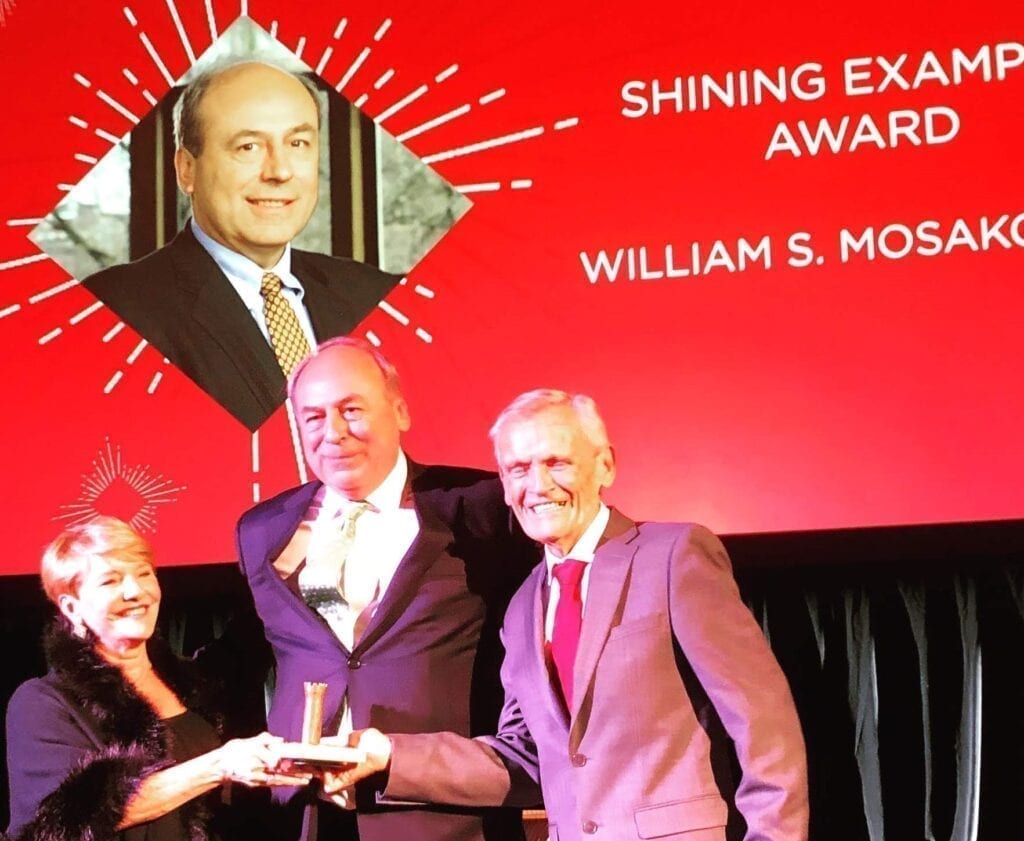 3. TAKE FEAR OUT
Fear is an emotion. Nothing more. It's a necessary response when it helps you jump off the railroad tracks just before a train goes flying by. But why the hell were you on the tracks in the first place? In leadership (and flying), fear is simply unproductive. It muddles thinking and does not allow for careful consideration of the facts. 24 HOUR BREAKING NEWS is entertainment for folks who ain't got anything better to do. Great leaders know that "fear-based" news is just stuff trumped up to sell more dishwashing liquid ads during prime time slots. Good leaders stay calm/ cool under fire and ignore the noise. Great leaders like APM's Megan Wynne have a level of confidence that both inspires and motivates people to be their very best ... even during really stressful times.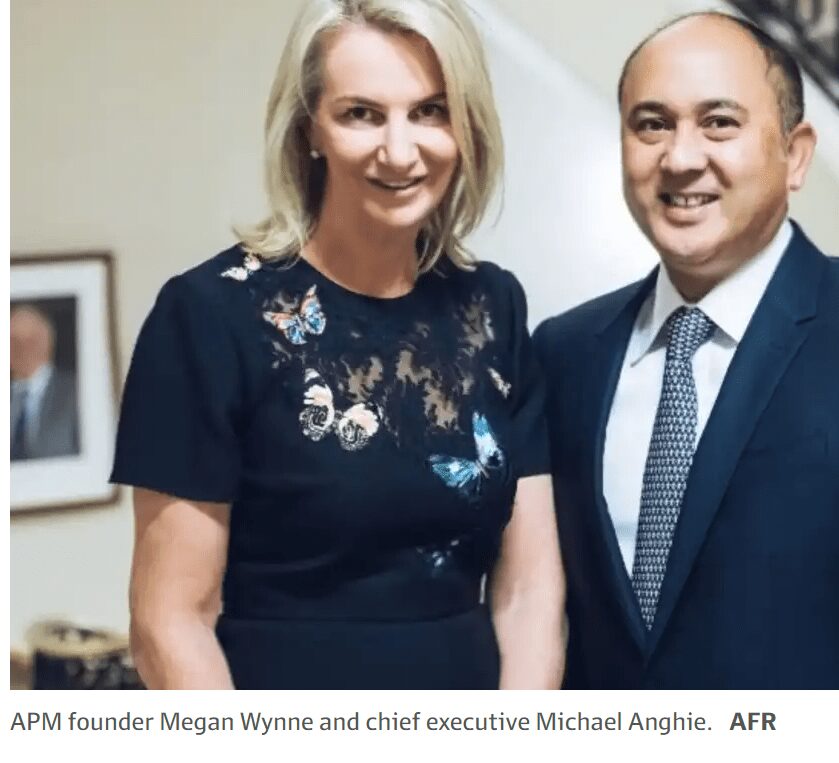 4. TRUST THE WIND
This is the quality that I find the most remarkable in some of the best leaders I've watched over the years. Whether it's taking on new projects, closing down offices, or making well-thought out F15 bombing raids, at some point … you gotta just trust the wind. Things will NOT go as expected, and it's going to be ok. Your rules will run out. Your data/facts will dry up. And I'm sorry to admit it in this post, but most great leaders understand the role good and bad luck has in life, business, and politics.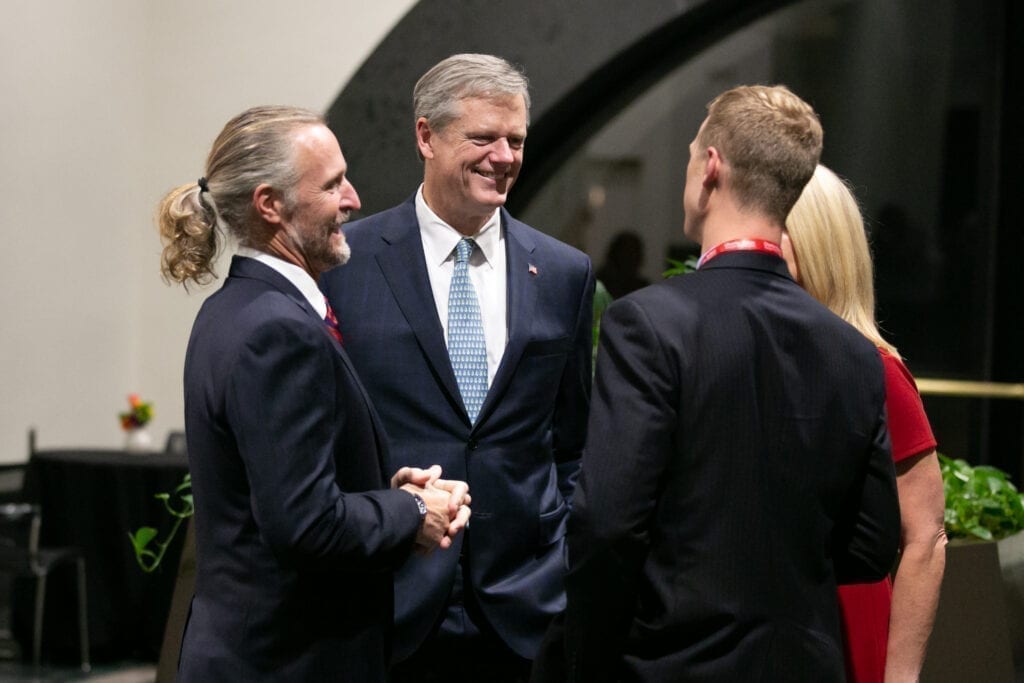 5. JUST BECAUSE YOU'RE PARANOID DOESN'T MEAN YOU SHOULDN'T BE
And that's how it works. You gotta always have a Plan B … a way out. You should never put your team and/or organization in a situation that could lead to certain doom. Great leaders are NOT the folks who risked it all and got lucky as hell. Great leaders like Dr. Chris Emdin understand the risks, the difference between causal and correlated, and do everything in their power to not "run out of gas." Leaders, like great pilots deal with "range anxiety" and manage to ensure that the term "fuel starvation" is not in the description of their last landing. Plan for the worse, anticipate the terrible, and celebrate when sh*t goes your way.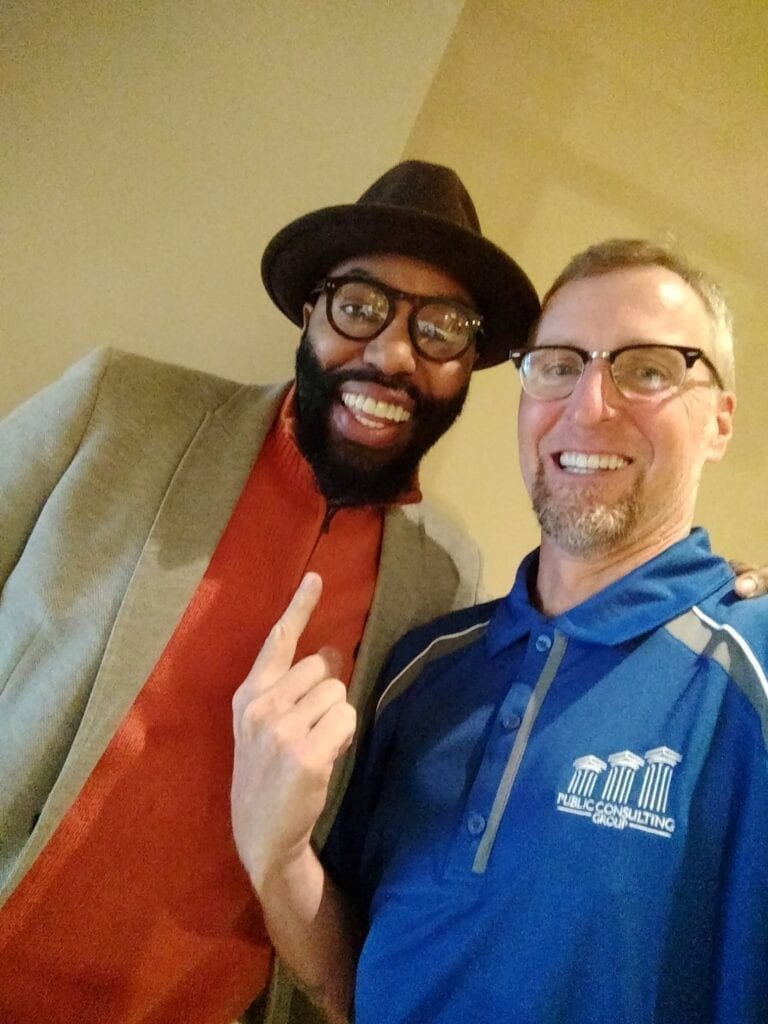 My 2 cents. No instructions. Appreciate you and our connection.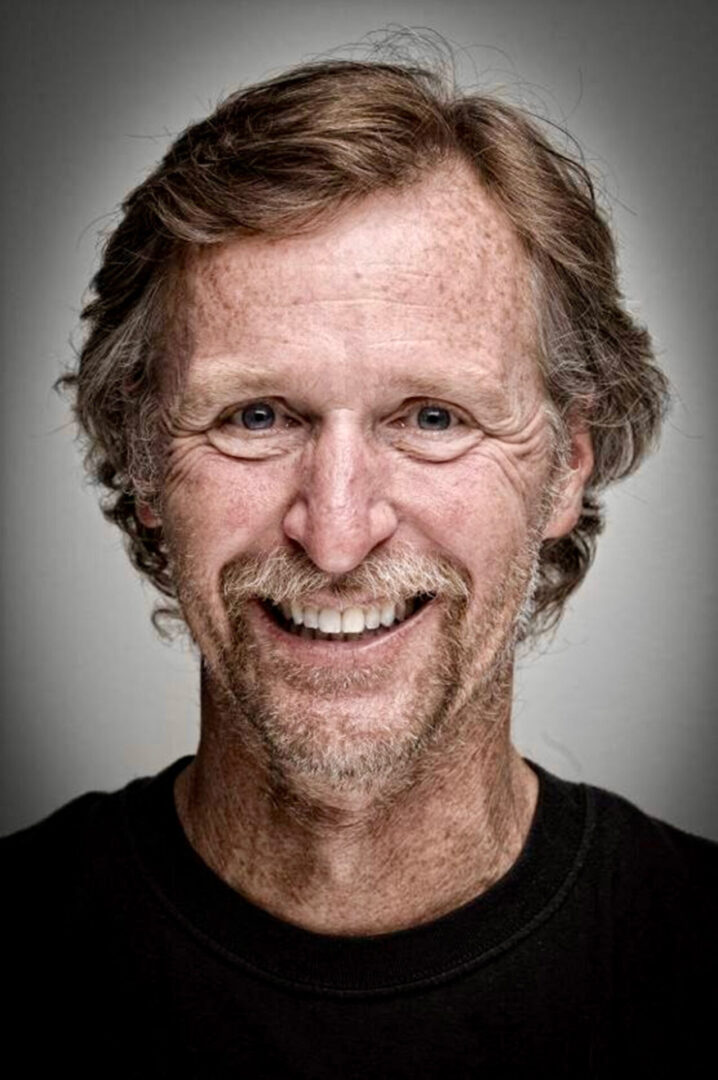 Tony McLean Brown
A Western NC hillbilly through and through, Tony McLean Brown was born in the small town of Enka-Candler outside of Asheville.  His parents re-named him when he was 3 years old to Tony (a nickname provided by his grandfather) McLean (middle name of his Uncle Michael) while retaining his legal surname Brown.
Throughout his career, Tony McLean Brown worked as a farmer, computer programmer, and management consultant – in his adventurous years – author, song-writer, bass player, poet, pilot, mountaineer, certified scuba diver, and competitor in professional bull riding, NASCAR late model racing, Toughman boxing, Crossfit Open, Ironman, pole vaulting, marathon and ultra-marathon running, as well as parenting.
www.HappyGuidetoaShortLife.com has been leveraged to help charities and non-profits across the globe, USA, NC, and Lake Norman area. If you, your family, school, church, or charity has been supported, please take the time to share, like, subscribe, comment, and provide a 5 star review!